Multi Currency Support Overview
SliQ Invoicing Online allows you to specify the currency for your business, e.g. £, $ or €. You can then invoice customers in the same currency or any other currency you specify.
Any products you define in SliQ's database will have prices in your business's currency. When you add the products as line items on an invoice, SliQ will automatically convert the prices into the customers currency using the current Exchange rate.
SliQ gets the current exchange rates using the service provided by Open Exchange Rates.
Setting the Currency for Individual Customers
By default the currency for any new customer you create will be set to the same currency as for your business. You can edit the currency to be the value you need on the Edit Customer page.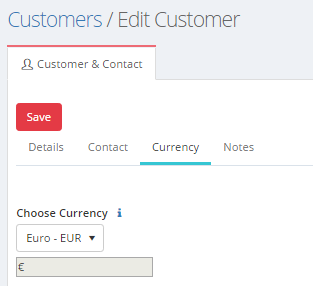 All Reports are in your Business Currency
Even if you invoice customers in different currencies, your reports show figures converted back into your business currency.
The conversion back into your business currency is performed using the exchange rate at the time the invoice was raised.